Medical Law and Healthcare Ethics
Select a fairly recent healthcare case. Prepare a paper discussing the legal and ethical issues in the case.
Your paper must be 5-6 pages, double spaced with 12pt font and include references in APA style.
Must use at least 4 references – one must be an "offline reference" i.e. book or article that can be referenced without "www".
Your paper should include the following:
General overview of the case (what happened, who is involved, who is the plaintiff, who is the defendant).
Summary of legal issues and your analysis/interpretation (i.e. is it civil law or criminal law, are any specific laws involved, is the issue scope of practice, standard of care, informed consent, negligence/malpractice, etc…).
Summary of ethical issues and your analysis/interpretation (i.e. issues with autonomy, beneficence, non-maleficence or justice).
Conclusion (Findings, Case Ruling, Settlement/Penalty, Your recommendation).
Below are some potential cases to select from.
Potential Cases for Final Paper
Karen Ann Quinlan
Terri Schiavo
Jessica Santillan
Benitez v. North Coast Women's Care Medical
Tuskegee Syphilis Study
Dax Cowart
Greenberg v. Miami Children's Hospital Research Institute
Tobin v. SmithKline Beecham
Clay Chandler
Kermit Gosnell
Glaxo Smith Kline Fraud Case (2012)
Sarah Fuducz
Stephanie Keene (Baby K)
Michael Jackson/Conrad Murray
Josie King
Jahi McMath
Cynthia Adae vs. University of Cincinnati
THE TEXBOOK IM USING FOR THIS COURSE IS CALLED "MEDICAL LAW, ETHICS & BIOETHICS FOR THE HEALTH PROFESSIONALS"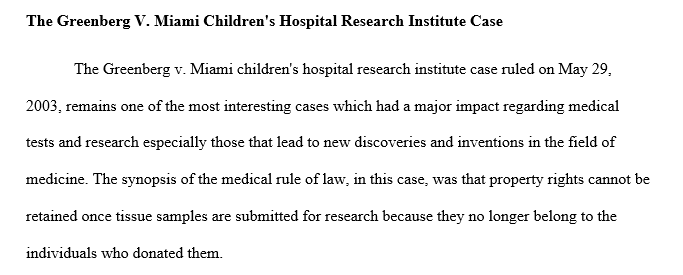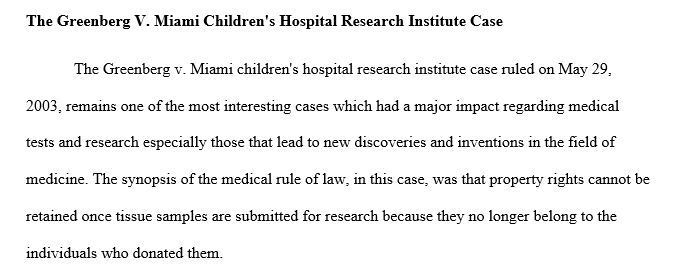 1503 Words
APA