Imagine that you have been invited to give a presentation at a student conference themed "Citizenship in the Food Nation." Research an
Imagine that you have been invited to give a presentation at a student conference themed "Citizenship in the
Food Nation." Research an initiative that relates to food and responsible citizenship and argue either in favor
or against the implementation of this initiative. Using the motivated sequence as the primary persuasive
strategy, prepare a speech that fits a 5-7 minute timeframe.
Recommended research areas:
 the local food movement
 sustainable farming
 urban farming
 community food education
 national school lunch program
Please note:
 You may select another topic the fits the
required theme.
 Speeches on topics that do not fit the
required theme will not be considered for
grading.
Answer preview for Imagine that you have been invited to give a presentation at a student conference themed "Citizenship in the Food Nation." Research an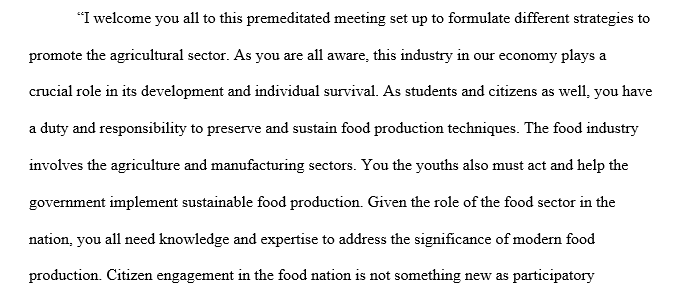 APA
1265 Words