An individual has the power to change society.
An individual has the power to change society. This not only reflects in today's society but more so in society during the Civil Rights Movement. During this time many movements were formed, anywhere from African American movements, gay right movements, American Indian movements, and the list goes on. each one of these movements an individual that single handedly impacted Society. The African American movement was formed in 1954 to end legalized racial discrimination, disenfranchisement and racial segregation in the United States. The individual that had the most power to change society in the African American movement is still celebrated today his name was Dr. Martin Luther king Jr. He stood up for what he believed in and didn't back down. This gave him the power to have many followers stand behind him during the Civil Rights Movement. The ability to speak with confidence and the power to have nonviolent protest change society for African Americans. The American Indian civil rights organization was founded in 1968, their goal was to stop poverty and police brutality against Native Americans they also wanted to preserve their culture and traditions. The individual's name that had the power to changed society was Denise Banks. He was the co-founders of A.I.M. He participated and led many protest for American Indian rights .One of the most powerful protest was named the longest walk. It was a matching protest by native Americans to educate the United States on American Indian cultures. A group of protesters matched 3200 miles from San Francisco to Washington DC. The outcome of this protest got protection of the native nations guarantee in treaties. The movement for gay rights started long before the Civil Rights Movement. In fact gays have been fighting for their rights since the 1920s. But it seems their voices weren't heard until the civil rights movement in the 1960s. In 1961, Illinois became the first state to do away with its anti-sodomy laws, effectively decriminalizing homosexuality, and a local TV station in California aired the first documentary about homosexuality. The individual who had the power to change society for the gays was Craig Rodwell. He and his partner organized the first gay pride parade. It was in New York and covered 51 blocks to central park. I am aware there are bigger and more substantial events that took place for gay rights but parades always seem to change society is mind the most. We use parades to celebrate everything in the United States and by being a founder of the very first gay rights parade it brings a lot of people together and people equal power.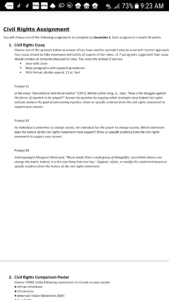 Solution preview for the order on An individual has the power to change society.

APA
1019 words