Write a synthesis summary and analysis of at least 2 of the articles that you read during Week 1 regarding ethics
Advanced Essential Business Concepts
Week 2 Written Assignment
Application Assignment 1: Learning Objective #1: Learning to use Microsoft Word & Learning Objective #2: Learning to review and analyze scholarly writing.
In a 5-7 page APA paper, write a synthesis, summary, and analysis of at least 2 of the articles that you read during Week 1 regarding ethics ( See below the articles) . Your analysis will use the ideas presented in the articles for this week's readings.
NOTE: With the exception of required readings, no credit will be awarded for sources from outside of the library.
The library sources will be used to justify your stance and back-up your opinions. Cite all sources (textbook, articles, research) in-text citation and at work's end according to the APA standards in your APA manual. If you have never written a review, use the resources located in your Getting Started > Course Resources folder to guide you in the process.
Watch Video What is a Scholarly Journal Article? https://youtu.be/PuyCJnv3aukUser: n/a – Added: 7/19/11
Watch Video Types of Scholarly Articles https://youtu.be/uEsAKqXSfbY User: n/a – Added: 1/12/11
Write your work in Microsoft Word, using the skills learned in your Office textbook readin
Solution preview for the order on Write a synthesis summary and analysis of at least 2 of the articles that you read during Week 1 regarding ethics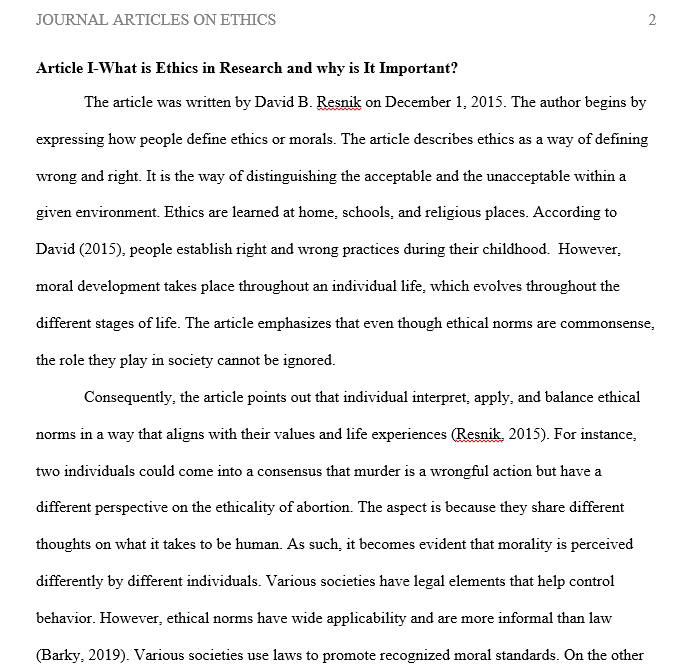 APA
1635 words